URL: http://news.bbc.co.uk/2/hi/business/3567529.stm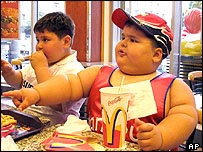 The picture says it all: Don't eat at McDonald's!
Apparently McDonalds is about to start selling kids-clothes that will endure "season after season". Of course you get suspicious.
But isn't it possible that McDonald's already have sponsored the awful baggy pants trend that's plagued the beginning of the 21st century.
Related posts
Previous:

Pylets, more than just mod_python March 26, 2004 Python

Next:

FWC November competition video March 30, 2004 Kung Fu
Related by category:
Related by keyword: