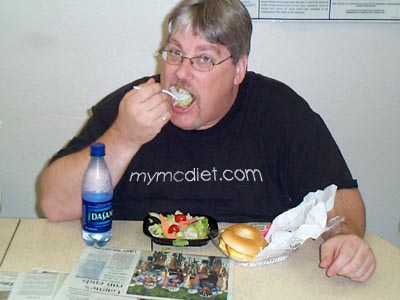 "WOW!! 107 Days and I have lost 46.2 Pounds! Eating ONLY McDonalds!!!"
Here's a guy with some real self distance: Kevin O'Connor of MyMcDiet.com
"Super Size me was the wrong message! It's you, not them, that is responsible. Great idea Morgan, tell a fat guy it is not their fault. How about telling them to get off their fat butts and do something before they hurt themselves. You don't have to stop eating at McDonald's or anything else you like, you just have to match it with the appropriate amount of exercise! Watch me."
This is so cool. Kevin has set out to prove the Super Size Me film wrong. It's not about MacDonald's and it's evil corporate ideals. It's about the individual and her decision. Kevin understands that you remain/become a "big fat guy" from unhealthy food; but he also points out that unhealthy food exists elsewhere too.
"Yes I have elected not to buy McDonald's on occasion and went to the grocery store, just to find myself buying doughnuts and bearclaws! What would have been better for me, the bagel, egg and cheese with orange juice or 3 big fat doughnuts that made me crave more sugar all day. Get real people. Take AIM, at ourselves. Stand up for yourself."
I must say I have some reservations about his project because it can have negative side effects such as making people think that a McDonald is OK. It still isn't. What matters is what you eat in detail and the exercise you do. There's still some healthy stuff at McDonald's such as McWater and McOrangejuicewithoutsugar. Some people seem to think they're being healthy by avoiding McDonalds in favor of a plastic tasting microwave-meal at home filled with sugar and lard. Not to forget the about of chocolate, crisps (chips in US English) and other junk food that you can buy from a grocery store.
What I like about Kevin's project is the sheer spite for imbalance. We Europeans often think of Americans as too extreme. Americans rarely argue any self criticism and often over-emphasise their arguments without confessing to any weaknesses. That's what Morgan Spurlock did with his Super Size Me film and Kevin just pulled him right back on earth by doing an extreme thing in a different direction.
Keep it up Kevin. I hope one day you can quit all unhealthy food and keep doing your exercises without having to praise your sneakers for managing to not fall apart from your weight.
UPDATE
This article about a Swedish study similar to that of Spurlock's but under scientific conditions shows that Spurlock's study is possibly exaggerated. Worth a read!
Previous:

"Clever" date formatting accessibility 10 November 2005

Next:

Pandora Update 14 November 2005
Related by Keyword:
Related by Text: