1 May 2004   0 comments   Misc. links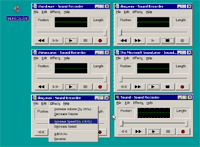 Not news, but worth showing. A flash animation where the Microsoft windows sounds are mixed in all kinds of ways to make it sound pretty cool. Really worth the short time it takes to download.
Can someone tell me how they did that. Surely, in some parts of the animation, no man can move the mouse that fast.
Previous:

Images 30 April 2004

Next:
Related by category:
Related by keyword: