31 July 2004   0 comments   Misc. links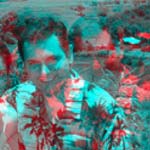 All you need is a photo and Photoshop. Obviously you need a pair of 3-D glasses. Where do you get hold of a pair? Well, next time a pair is included in a popular science magazine or something, I'll buy the magazine just to get the glasses.
Anyway, this NASA JPL article explains how to do the Photoshop bit. It doesn't look very hard to do. First I just need to get a pair of glasses.
Previous:

Most common English words 29 July 2004

Next:

Overcomplicated password requirements on Oystercard.com 2 August 2004
Related by category:
Related by keyword: