12 February 2008   4 comments   Politics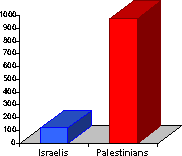 I'm not a political editor and I can't confirm the validity of these statistics but if they're at least close to true it's a hell of a scary picture of the injustice in the Israeli/Palestine conflict.
Israel receives $6.8 million per day in aid. I doubt that all of that money goes towards building better schools for Israeli families.
UPDATE
I found this comic script and even if it's context implies another place I think the message is the same:

UPDATE 2
Previous:

Chinese New Year and the Persecution of Falun Gong in China 9 February 2008

Next:

CommandLineApp by Doug Hellmann 22 February 2008
Related by category:
Related by keyword: