URL: http://www.news40.volvocars.co.uk/flash/default.asp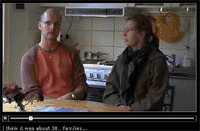 On the same day 32 people bought the same car in the little Swedish town of Dalarö. The advert is about the new S40 Saloon but they've made a documentary only about the "fact" that 32 people bought the same car on the same day.
The film is embedded as Flash and takes a while to load, but you can download it as Quicktime or Windows Media if you like.
Worth watching if you as an unswede, want to get some insight into how normal Swedish people look and live and how they speak English. I think this also has large portion of Swedish irony in it, because even though it's all a joke, nobody smiles or laughs; you're on your own to understand it.
Related posts
Previous:

How to uninstall LeakFinder in Zope March 8, 2004 Zope

Next:

PSP - Python Server Pages March 9, 2004 Python
Related by category:
Related by keyword:

Flash advert hell October 24, 2008
S21: The Khmer Rouge Killing Machine February 2, 2004
Best in Show, really funny September 16, 2003