17 December 2004 2 comments Web development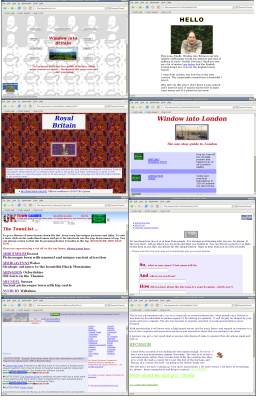 I actually feel bad about complaining about this website because it's a vast bank of information about England written by a single person called Philip Davidson. According to his website, he's composed some 3000 pages! I guess all have been done with state of the art Microsoft Frontpage 0.1, MS Paint and Netscape 2.0.
The reason I genuinely dislike looking at this website is that all pages seem to be very different. There's not consistency and you constantly fear that you've left the site without noticing it. A quick glance on the URL before you panic assures you you can remove the cursor from the back button. The front page has five animations inclusive an animated background that can probably cause damage to your eyes. Be careful!
The site also features frames that scroll forever and hides parts of the navigation. On this page there's a picture which is the word "RETURN"; next to it is an explanation what that says you can press it to return to the main page. What's the point then of having the image if you have to explain it? On some pages there's a nav at the bottom with the headline: "Transfer to:". Since when do you transfer between different pages on one site? Some pages surprisingly open new windows with no apparent reason. Be careful!
Previous:

Python package path when executed elsewhere 14 December 2004

Next:

__call__ folderish Zope objects 19 December 2004
Related by Keyword:
Related by Text: