URL: http://www.hubbellandhubbell.com/residences.htm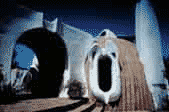 Organic architecture I think this is called. Many great houses and things. I like the one with the big stone in the middle of the room.
Found this link from this news piece:
"One of the many casualties of the California fires was the unique and lovely studio and residence of artist and architect James Hubbell"
Related posts
Previous:

The Matrix Revolutions, naive but spectacular November 6, 2003 Film

Next:

Worst Album Covers Ever November 7, 2003 Misc. links
Related by category:
Related by keyword:

Page here about DoneCal December 19, 2010
DoneCal.com international visitors January 21, 2011