URL: http://www.angelfire.com/extreme4/kiddofspeed/page2.html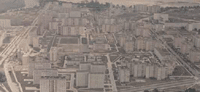 I truely recommend that you read this slideshow gallery. The English isn't all that great but you understand it if you really try.
"I travel a lot and one of my favorite destination lead through poisoned with radiation, so called Chernobyl "dead zone" It is 130kms from my home. Why favourite? because one can ride there for hours and not meet any single car and not to see any single soul."
It's such a fascinating story.
"We had communists at power those days and they kept silence about this accident and then people start learning by themselves and real panic began in 7-10 days after disaster."
"in April 26-27, 1986 after reactor exploaded, people gathered on the roof of this building to watch a beautiful shining that rised above APP (the plant). [People] didn't know this was shining of radiation. they learned it on next day when evacuation began"

The picture of the little girls on this page struck my heart. The picture is taken from the same year as the accident happened. Not many months later all of that was gone. Today the city of Chernobyl is completely emptied. No cars, no people no sounds other than the wind. Much like the quite countryside except here there are roads and houses. This makes you immediatly think of any Stephen King novell or any other science fiction film.
"Some tourists companies have been trying to arrange extrim tours in this town, but people- their customers scared and have been complaining about silence which is hard to stand in empty town. They charged 210 us dollars for 2 hours excursion and town guard say, they all were leaving in some 15 mins, complaining that silense is tremendous as if one got deaf."
Do read the article. It's really worth it.
Related posts
Previous:

Finished the bulk of my dissertation March 15, 2004 Mathematics

Next:

Virtual feminization March 17, 2004 Misc. links
Related by category:
Related by keyword:

Active Reactor watches November 8, 2005