I have a Zope web app that uses hand coded SQL (PostgreSQL) statements. Similar to the old PHP. My only excuse for not using an ORM was that this project started in 2005 and at the time SQLAlchemy seemed like a nerdy mess with more undocumented quirks than it was worth losing hair over.
Anyway, several statements use ILIKE to get around the problem of making things case insensitive. Something like the Django ORM uses UPPER to get around it. So I wonder how much the ILIKE statement slows down compared to UPPER and the indexed equal operator. Obviously, neither ILIKE or UPPER can use an index.
Long story short, here are the numbers for selecting on about 10,000 index records:
ONE


EXPLAIN ANALYZE SELECT ... FROM ... WHERE name = 'Abbaye';
Average: 0.14 milliseconds


TWO


EXPLAIN ANALYZE SELECT ... FROM ... WHERE  UPPER(name::text) = UPPER('Abbaye');
Average: 18.89 milliseconds


THREE


EXPLAIN ANALYZE SELECT ... FROM ... WHERE  name ILIKE 'Abbaye';
Average: 24.63 milliseconds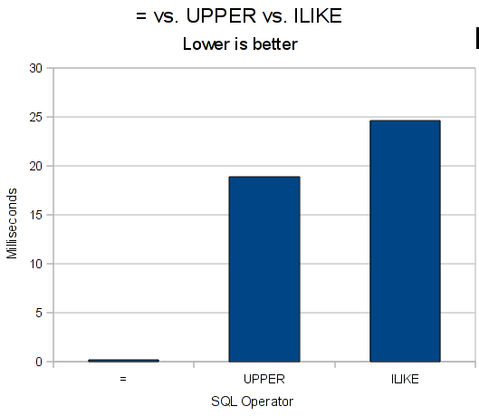 First of all, the conclusion is to use UPPER instead of ILIKE if you don't need to do regular expressions. Secondly, if at all possible try to use the equal operator first and foremost and only reside on the case insensitive one if you really need to.
Lastly, in PostgreSQL is there a quick and easy to use drop in alternative to make an equality operatorish thing for varchars that are case insensitive?
UPDATE 2014
There is an answer to the question just above: citext
Related posts
Previous:

Who was logged in during a Django exception April 15, 2010 Django

Next:

Word Whomp solvers love Crosstips April 22, 2010 Misc. links
Related by category:
Related by keyword: