26 December 2004   1 comment   Misc. links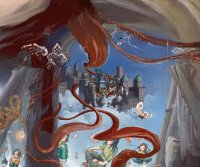 I can guarantee that you'll be stunned by this illustration. It's a Flash animation and after some loading you'll be able to use the mouse to go deeper and deeper into the picture. I've never seen anything like this on the Internet before.
How do they do that? I'm curious. The picture is fuzzy but I still think a lot of attention has gone towards the details in the pictures. Salvadore Dali would probably enjoy this illustration if he was alive today.
Previous:

Merry Christmas 22 December 2004

Next:

Valuble site: Commonly Confused Characters 28 December 2004
Related by category:
Related by keyword:

Deep sea fish, lots of pictures 11 March 2004