5 May 2004   0 comments   Misc. links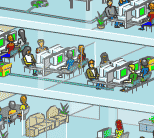 Outbreak is a flash game where you act as a IT admin of a company and your job is to protect your network from viruses. Actually, the game starts when the first viruses have arrived. I found it very hard to keep up. As soon as the viruses arrive you don't really know what to do so you press all kinds of buttons such as "Install Patch" or "Pull the plug".
It's not so much a game, rather more like a interactive and fun advertisement. Nevertheless, it's an impressive advertisement. I wish it would have been a proper sim. Then I'd probably not be writing about it right now, I would be playing it still. It didn't work in Firefox so I had to blow off the dust on internet explorer to get it working again.
Previous:

Next:

Obfuscating C contest running now 7 May 2004
Related by category: