16 April 2004   6 comments   Misc. links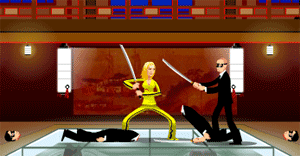 Very bloody and violent Flash game from the Kill Bill film. I don't speak a word of Czech but press the far left button of the three buttons you see when the page has loaded.
I doubt this game will be released here in the UK. Too violent.
Previous:

Funny Plone quote 15 April 2004

Next:

Proper wireless computing 17 April 2004
Related by category:
Related by keyword:

Kill Bill vol. 1 23 October 2003