On Wednesday this week, I managed to get a link to Wish List Granted onto Hacker News. It had enough upvotes to be featured on the front page for a couple of hours. I'm very grateful for the added traffic but not quite so impressed with the ultimate conversions.
4,428 unique visitors
43 Wish Lists created
2 Usersnap pieces of constructive feedback
0 payments made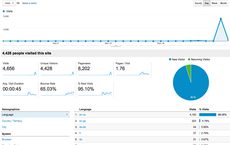 So that's 1% conversion of people setting up a wish list. But kinda disappointing that no body ever made a payment. Actually, one friend did make a payment. But he's a colleague and a friend so not a stranger who stumbled onto it from Hacker News.
Also, it's now been 3 days since those 43 wish lists were created and still no payments. That's kinda disappointing too.
I'm starting to fear that Wish List Granted is one of those ideas that people think it's a great idea but have no interest in using.
Related posts
Previous:

Welcome to the world, Wish List Granted November 27, 2013 Web development, Django

Next:

How I do deployments December 16, 2013 Linux, Web development
Related by category:
Related by keyword:

HTML Tree on Hacker News May 18, 2014