Like any responsible parent, I get heart palpitations when my kids (and especially their friends) rush through the door, in or out, and just leave the door wide open letting all that sweet sweet air-conditioned coldness rush out like a prison break. My wife gave me these Gibcloser "Safety Door Closer" as a present and we installed them today on all 3 doors (front door, to-basement door, back porch door).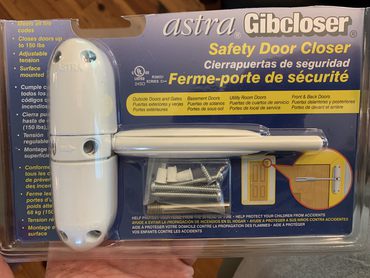 They're ~$18 on Amazon.com and it appears they come in many different colors. Our doors were white so that that's what we used. It took less than 30 minutes to install on all 3 doors. All you need is a screwdriver and, I would suggest, some thin foam command strips.
Door held at 90° and released.
I know it might sound silly but I've wanted this for so long and it never occurred to me that such a simple solution might exist. Clearly, we've all seen door closers like this before, but almost always bigger. Especially on commercial buildings. But they all seem so complicated and expensive-looking and definitely strike fear in you of: "that'd never work on my home doors". What's neat about these is that they are gentle. It's just a gentle (albeit accelerating) push but if someone/something was to get stuck as it closes, it wouldn't chop off a finger or a foot.
Truth be told, they don't close the door all the way. In the above video, it closes nicely because I held the door open at 90° which is a bit unrealistic angle that someone would forget to close the door. But at least it'll close it enough to stop the flow of cold/warm air going through.
Related posts
Previous:

How to submit a form with Playwright August 3, 2021 JavaScript

Next:

How to fadeIn and fadeOut like jQuery but with Cash August 24, 2021 JavaScript
Related by category:

Albert Einstein figurine head April 12, 2007 Family
Thuas Trägubbar January 4, 2007 Family
Happy Birthday Malin! November 16, 2003 Family