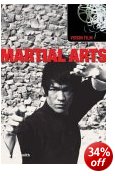 Got my copy today! I'm excited to read it.
Martial Arts is a book about martial arts films such as Enter the Dragon and Crouching Tiger Hidden Dragon etc. written by my "kung fu sister". Within the club you sometimes refer to other people in club as brothers and sisters. Pen and I train both train with Dave in Islington.
Have you seen Crouching Tiger Hidden Dragon? Do you understand it all or are you, like me, just watching for its fascinating effects, scenery and swordplay? Apparently, all the questions that you've always wanted to know is in the book. I remember asking Pen once: "Why does she jump off the bridge in the end?" To which Pen replied: "Buy my book and you'll find out". So I did. Can't wait!
Previous:

Apple Store or Micro Anvika 26 February 2006

Next:

Why Linux is better 1 March 2006
Related by category:
Related by keyword:

Watford kung fu club 4 May 2006
Old School Kung Fu 16 November 2005
Kill Bill vol. 1 23 October 2003