Starting today, I'm a Hubber. Meaning, I work for GitHub. I'll be joining the GitHub Docs team to help technical writers document all the various products that GitHub have. Since I haven't actually started coding anything yet, I don't want to claim I know how it works or exactly what I'll be working but on, but I do know that the site at hand is docs.github.com and I've previously taken a lot of inspiration from this site when building the MDN rewrite.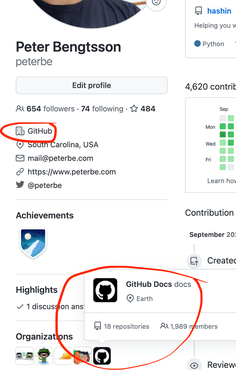 If you are a Hubber, too, and reading this; Hi! Let's be friends! I'm a friendly guy. Please ping me and say hi.
I'll be working from home here in Mount Pleasant, South Carolina. I have 2 young kids; Tucker and Charlotte, who mean the world to me. And my backbone-of-life wife Ashley. My hobbies are coding, swimming, golf, and cooking.
Related posts
Previous:

TypeScript generic async function wrapper function September 12, 2021 JavaScript

Next:

How to bulk-insert Firestore documents in a Firebase Cloud function September 23, 2021 Node, Firebase, JavaScript
Related by category:
Related by keyword:

Headsupper.io December 5, 2015