URL: http://www.amazon.com/God-No-Already-Atheist-Magical/dp/1451610378/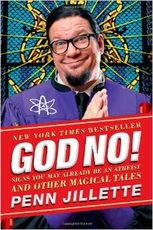 A couple of months ago my wife went to see the Penn & Teller show in Las Vegas. Afterwards she stayed backstage to meet Penn, have a quick chat and sign a copy of his book. My wife said "My husband is going to be so jealous that I met you", to which Penn replied "Wanna make him really jealous? Grab my ass." Which she did. Haha!
I've been a long time fan of their show. I remember watching it when I was big enough to appreciate magic but had no idea what the jokes were and I thought they was just kinda dark and odd.
These guys do everything together but this book is all Penn. It's completely without a plot line other than, I guess, it goes through the 10 commandments in the bible and for each, tells a couple of stories that are somewhat related. Funny stories. Sexy stories. And very very personal stories.
Despite its title not that much of the book is about atheism. The prolog and the epilogue is though. In fact, the prolog was "mindblowingly" profound and well written. I was really impressed. There were so many interesting thoughts that I could quote the whole thing but instead I'm just going to quote this little piece:
Some will tell you "God is love" and then defy you not to believe in love. Bug, if X = Y, why have a fucking X? Just keep it at Y. Why call love god? Why not call love ... love? "Beauty is god." Okay. If you change what the word means, you can get me to say I believe in it. Say "God is bacon" or "God is tits" and I'll love and praise god, but you're just changing the word, not the idea.
Funny! And I'd never thought of that as a rebuttal.
I used to be an atheist and was almost militant about it meaning; I was prone to proclaim it loudly in hope of convincing people. I am no longer an atheist. Partly that's because I've come to understand two things: Preaching for the negative is a paradoxical oxymoron. Secondly, I have new-found respect and admiration for church as a community.
Which brings me to conclude with my final thought: After reading this atheism proclamation I and now even less atheist. The more arguments Penn makes the less I believe in atheism. Strange.
I guess I can say "God is leaving people to make up their own minds". Which means I can say: "Leaving people to make up their own minds is leaving people to make up their own minds.
But I did enjoy many of the stories in the book. You might too.
Related posts
Previous:

Bye bye AWS EC2, Hello Digital Ocean November 3, 2014 Linux

Next:

Why is it important to escape & in href attributes in tags? November 11, 2014 Web development
Related by category: