4 July 2005   1 comment   Misc. links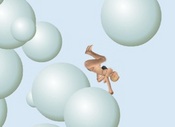 Probably the coolest Flash animation I've seen in weeks. Not a lot happens but I warn you because it's dangerously addictive. The body keeps falling down and sometimes get stuck. When she gets stuck you have to pick her up and get her to fall down in some other place instead.
Don't miss that you can pick her up and throw her upwards so that she falls harder the next time. Got this link via boingboing.
Previous:

Module dependencies of IssueTracker.py 2 July 2005

Next:

Lisp compared to Python 7 July 2005
Related by category: