URL: http://us.imdb.com/title/tt0317248/
Last week I went to (finally) see City of God at Prince Charles Cinema and it was great.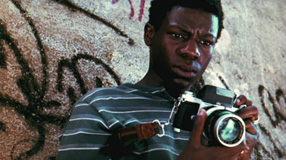 The reviews about the film was all promising and I had my hopes up high; a bit afraid that would ruin it, but it didn't.
This film really takes you "into the picture". I.e. it feels like you're there with them. How they do that I don't know but you feel scarily close to the violence and guns that appear a lot in the film.
A little piece of advise is to stay for the credits after because they show a little extra bit from the real true story.
Related posts
Previous:

Perfect parking formula September 2, 2003 Mathematics

Next:

New search feature on this site September 13, 2003 This site
Related by category: