URL: http://www.whaleriderthemovie.com/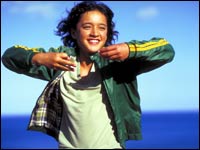 Today I went to see Whale Rider at Odeon in High Street Kensington. We were first going to see Pirates of the Caribbean but the air conditioner in the auditorium was broken and in this heat even I wouldn't sit hour and a half with 50 people sweating like a pig.
The Whale Rider is one of those films which has lots of rewards from small international film festivals, and I now think the film deserves them all.
It's about cute little Pai on New Zealand. She's a Mauri and should be the heir to the trone as chief of the little village. The only problem is that she's a girl which her grandfather cannot accept. That is what the film is about.
You get a warm feeling for these people and their culture. If you think the dance sequence the "all blacks" do before a rugby game is chick, you'll love this film.
All in all the film feels like a sweet fairy tale like Amelie from Montmartre but with a contemporary important message. I suggest that you go to see this film. It's one of the most comfortable films I've seen this year.
Related posts
Previous:

Terminator 3 Rise of the machines August 4, 2003 Film

Next:

The Seven-day Weekend August 13, 2003 Books
Related by category:
Related by keyword:

Moby Dick (by Herman Melville) February 25, 2014