URL: http://news.bbc.co.uk/1/shared/spl/hi/picture_gallery/04/americas_bush_country/html/1.stm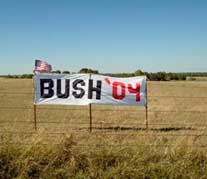 BBC have a great little website called BBS NEWS | In Pictures. Sometimes they have a theme on something, like today the Bush country theme.
I love these kind of photographic slideshows. No long texts to read and you get to watch the photos one by one. Then I also love this kind of journalism from within the USA. The kind of stuff I see, as a european, is often stuff from the front, i.e. new york, hollywood, washington, so this is greatly appreciated. Here's a nice little quote:
"I'm gonna vote Bush, he's a good man. What's the name of the other guy?"
Related posts
Previous:

Reindexing AVI films with mplayer October 26, 2004 Film

Next:

Massrenaming with shell and python October 28, 2004 Python, Linux
Related by category:
Related by keyword: