URL: http://www.terminator3.com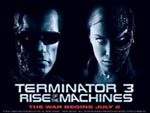 Just went to see Terminator 3 at Warner Village in Angel.
Actually not too bad. It was fun and had some entertaining scenes in terms of action. The car chase scenes were great. Maybe I think this only because I saw it at the cinema with great sound.
A lot of old tricks from Terminator 2 Judgement day was in this film too. Like "I'll be back" and getting a biker outfit. This was bad but I suppose it was inevitable to connect this film with the previous one.
The film made me laugh many times. Almost always when Arnold does something almost ironic for example when he says "Talk to the hand!" as you'll see when you see the film.
My suggestion is: Go watch it. Don't expect too much and see it at the cinema unless you have a great home cinema system.
A plus for the atomic bomb explosion scenes.
Related posts
Previous:

How to not get any spam July 31, 2003

Next:

Whale Rider August 11, 2003 Film
Related by category:
Related by keyword:

Exploding Dell laptops July 31, 2006