11 June 2004   0 comments   Mathematics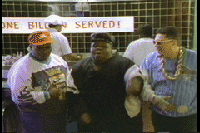 SquareOneTV is some sort of kids tv show from the 80's that aimed to entertain and teach kids about math. I never watched it as a kid because it was probably never aired in Sweden. Shame.
The funniest thing on their website got to be the video clips. Be sure not to miss the "One Billion is Big" by "The Fat Boys". Really made me laugh.
Previous:

Corp Calendar 0.0.5 11 June 2004

Next:

Impressive baby photos website 12 June 2004
Related by category: