URL: http://www.foodfromsweden.com/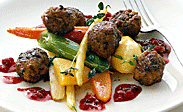 "It is warmer in this country than you might think
Sweden is a strange country"
Food from Sweden is a site about Sweden and Swedish cooking. The list of recipes is still small, but the few they have are all genuine typical Swedish dishes. I must say that the pictures are really good. Much much better than mine.
An interesting fact from the Swedeness page : The distance between Malmö in the south and Kiruna in the far north is about a thousand miles. Travel this far in the other direction and you land up in Rome! Sweden is so long that it encompasses six climate zones.
Related posts
Previous:

Throw the penguin April 21, 2004 Misc. links

Next:

A whole website about Shallots April 25, 2004 Misc. links
Related by category: