URL: https://www.peterbe.com/plog/add-hrefs/test.html
I've now written a little something that is able to convert a piece of text and make URLs into hyperlinks. Here's an example:

Go to www.abc.com
and foo@bar.com
this becomes:

Go to <a href="http://www.abc.com">www.abc.com</a>
and <a href="mailto:foo@bar.com">foo@bar.com</a>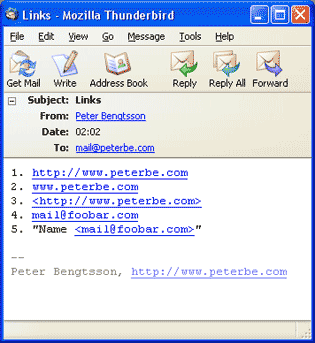 Most of you have probably seen this in the way emails are displayed within their email program. See this screenshot:
Now, what my little program does is that it attempts to accomplish the same effect. The script is written in Python and will be available for download here soon. First I just want you people to help me find any bugs first.
Related posts
Previous:

Do you know about Firefox? November 1, 2004

Next:

XHTML Transitional versus Strict November 5, 2004 Web development
Related by category:
Related by keyword: