I'm now off by about two months but in June 2003 I posted my first ever blog post.
My first website was launched in 1997 but that one is long lost. The next version, which actually used a database and a real web framework was launched in 2001 and this is the oldest screenshot I could find.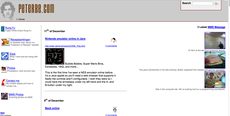 Back then the site was built in Zope which at the time was the coolest shit you could possibly use. Back in 2003 I was renting a room in an apartment in London when I was studying at City University. The broad band (american's know this as DSL) we had had a static IP address so I could tie my domain name directly to my bedroom basically. If you're born in the nineties or anything sooner you wouldn't remember this but for almost 20 years you could either buy a laptop (small but slow) or a stationary computer (clunky but fast) and this laptop I was running on was no exception. Not to mention it was an abandonned laptop too. I think it had about 8 MB of RAM. I ran a stripped down version of Debian on it without any graphical interface. I managed the code by scp'ing files into it from my Windows computer.
Anyway, running on a home DSL line with on a rusty old laptop blinking away under my bed meant that site would be ultra-slow if I didn't pre-optimize it. And that was something I did. The site had a Squid cache in front of it and the HTML, CSS and Javascript was compressed by a script I wrote called slimmer.
Back in 2003 blogging was getting hotter than celebrity spotting and I was very much interested in something that later became called "SEO" and the rumor at the time was that "blogs" got penalized by Google because blogs usually just re-posted stuff from real web pages. So I decided to prefix all my content with the word "plog". It's was a mix of "p" for Peter and sufficiently different from the word "blog".
In the first couple of years of blogging I would blog about all sorts of stuff that caught my interested. Not just genuine thoughts or real technology notes but any fun link I came across. That became a massive trend later (and still is I guess) by the giants like Digg and Reddit so I stopped doing that with my own blog. In the last 7 years (give or take) I only blog about things that are genuinely close to heart or something I've actually worked on.
Some stats:
Total number of blog posts: 949
Total number of approved blog comments: 8,086
Number of email addresses collected: 4,292
Maximum number of comments on any one post: 2,749
Number of Cease or Desist letters received: 1
To me, blogging used to be a form of shouting out to the world what I found interesting in the hope that you'll also find it interesting and that you'll thank me for finding that. Now it's a way for me of either documenting something I've learned recently or some other announcement that is related to what I do on some technical thing.
I wonder how this will change for me in the next 10 years.
Related posts
Previous:

In Python you sort with a tuple June 14, 2013 Python

Next:

Fastest database for Tornado October 9, 2013 Python, Tornado
Related by category:
Related by keyword: