URL: https://ushdwat.ch/
tl;dr You Should Watch is a mobile-friendly web app for remembering and sharing movies and TV shows you should watch. Like a to-do list to open when you finally sit down with the remote in your hand.
I built this in the holidays in some spare afternoons and evenings around the 2022 new years. The idea wasn't new in my head because it's an actual itch I've often had: what on earth should I watch now tonight?! Oftentimes you read or hear about great movies or TV shows but a lot of those memories are long gone by the time the kids have been put to sleep and you have control of the remote.
It's not rocket science. It's a neat little app that works great on your phone browser but also works as a website on your computer. You don't have to sign in but if you do, your list outlives the memory of your device. I.e. your selections get saved in the cloud and you can pick back up whenever you're on a different device. If you do decide to sign in, it currently uses Google for that. Your list is anonymized and even I, the owner of the database, can't tell which movies and TV shows you select.
If you do sign in to save your list, every time you check a movie or TV show off it goes into your archive. That can be useful for your next dinner party or date or cookout when you're scrambling to answer "Seen any good shows recently?".
One feature that I've personally enjoyed is the list of recommendations that each TV show or movie has. It's not a perfect list but it's fun and useful. Suppose you can't even think of what to watch and just want inspiration, start off by finding a movie like (but don't want to watch right now), then click on it and scroll down to the "Recommendations". Even if your next movie or TV show isn't on that list, perhaps clicking on something similar will take you to the next page where the right inspiration might be found. Try it.
It's free and will always be free. It was fun to build and thankfully free to run so it won't go away. I hope you enjoy it and get value from it. Please please share your thoughts and constructive criticism.
Try it on https://ushdwat.ch/
Some pictures
Your Watch list (mobile)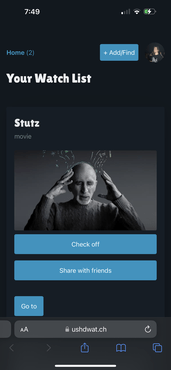 Search results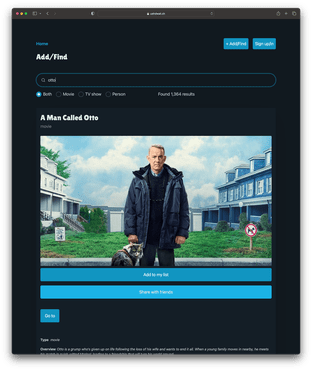 Navigating by "Recommendations"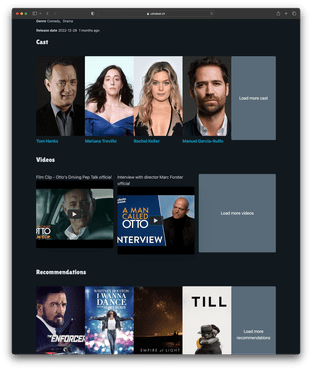 "Add to Home Screen" on iOS Safari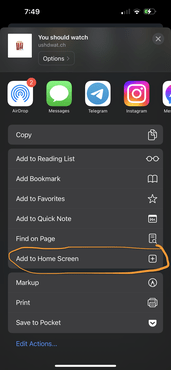 Related posts
Previous:

First impressions of Meilisearch and how it compares to Elasticsearch January 26, 2023 Elasticsearch

Next:

The technology behind You Should Watch January 28, 2023 React, Firebase, JavaScript, You Should Watch