Python Cookbook arrived
05 April 2005 2 comments Books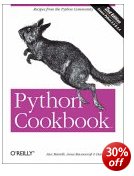 I got my copy of the Python Cookbook today. This book might have been available in the US for some time but I had it preordered here in the UK. So for all fellow UK Python people who have been waiting like myself, just wanted to let you know that now it's avaible.