Filtered home page!
Currently only showing blog entries under the category:
Photos
.
Clear filter

Someone added a test issue on the Demo issuetracker with an amazing file attachment.
I have no idea where it comes from and the person who uploaded it might have left an email address that doesn't work. I've tried emailing this person in hope of more info.
Imagine that some rich person has this as interior design in their house. (the person must be rich if he/she can afford a piece of art to consume so much space in the house)

I've now uploaded my photos from the FWC competition in Sutton (south-west of London). This time I didn't take the time to do any editing or naming of the files. I did quickly write titles for all photos but if you have any objections to these, please let me know.
To an outsider, what we do with the "demo event" might appear strange but one day I hope to manage to explain it. My favorite photo is from the Brighton Hove Demo team.

Last week I finally had my graduation ceremony. It was very well organised and ran smoothly. We met, got our hats and robes, then the ceremony began shortly. All of us went up one by one to receive our diploma which surprisingly mentioned our grade.
Now I've uploaded two photos from the day. They can be found here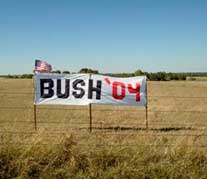 BBC have a great little website called BBS NEWS | In Pictures. Sometimes they have a theme on something, like today the Bush country theme.
I love these kind of photographic slideshows. No long texts to read and you get to watch the photos one by one. Then I also love this kind of journalism from within the USA. The kind of stuff I see, as a european, is often stuff from the front, i.e. new york, hollywood, washington, so this is greatly appreciated. Here's a nice little quote:
"I'm gonna vote Bush, he's a good man. What's the name of the other guy?"

This morning I finally uploaded the rest of the photos from my Sweden holiday. These photos are from the Göta Kanal part. It was Henrik Hjalmarsson (aka. Hjalle), his brother Johan, Kalle Ekberg and myself. We travelled with the Hjalmarsson brother's parent's sailing boat along the canals due east from the middle of the country out on the east coast of Sweden. Then was sailed down along the country only stopping on little islands for having dinner and eating.
We ate loads of really good food. Hjalle is a chef by profession so he knew what he was doing when he was cooking. We also drank lots but never too much to get drunk. It was wonderful all together.
The last two days of the holiday I spent in Stockholm visiting old friends. Here are the photos from Stockholm

Life of Pi by Yann Martel is a book that everyone should read. Yes, this has been said about many books but still, I for one have recommended this book to several people already.
I read this book on my holiday to Sweden last week and it was many times hard to stop, but I think I'm still reading it today in my head. Not a day has gone by yet without thinking about this book and what I learned from it. It's difficult to explain without spoiling anything so I'll just leave it at that. Read what Ned Batchelder has to say about the book
As a non-native English person I found many of the terms difficult I must admit. Especially the boat-related terms, but when I read this book I actually had access to a English-Swedish dictionary for boating/sailing which was very convenient.
Thank you Melitta for recommending the book!

I've always been amazed by this sport since I saw First blood (aka. Rambo I). Does anybody know what this game is called? Doesn't matter all that much but the photos on this site are just amazing. Especially those that are dusty.
Just experimenting with my new digital camera and a pair of binoculars. Sadly I don't have a tripod for neither the camera or the binoculars, which would make the picture quality even better. It was not my binoculars but I'm sure they were a good pair.
All of these photos were taken from my balcony. On the first two photos the non-resized part of St Pauls cathedral was not resized.

No binoculars, no zoom on the camera

No binoculars, full zoom on the camera

With binoculars, no zoom on the camera

With binoculars, full zoom on the camera
I've experimented with the zoom on the camera before.